Ecology & Evolutionary Biology
Mealybugs
Citrus Mealybug - Planococcus citri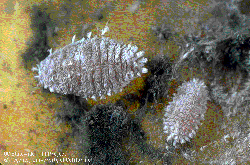 Description: Female mealybugs are soft oval insects without wings. They are up to 3 mm long. Some species are covered with fluffy wax and others have long, tails of fluffy wax. Male mealybugs are tiny, gnatlike insects with two wings and long tails of white wax. Mealybug eggs are very small but are covered by a conspicuous dense, fluffy, white mass of wax called the ovisac. Very young nymphs are flat, oval and yellow. Older nymphs of some species are covered with fluffy, white wax.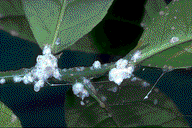 Damage: Mealybugs damage plants by inserting their threadlike mouthparts into any part of the plant and sucking out sap. Mealybugs excrete honeydew, a sweet, sticky liquid. Sooty molds often grow in the honeydew causing infested plants to turn black. The citrus mealybug has a toxin in its saliva which causes its host plants to drop leaves and buds. Heavily infested plants are disfigured by the mealybugs, their ovisacs, honeydew and sooty molds.
Life Cycle: Each female usually lays from 200 to 600 eggs in the tick ovisac. Some species of mealybugs give birth to live young. After several weeks, the nymphs develop into adults. Male nymphs secrete a tiny, fluffy cocoon and develop into winged adults. Males then fly about seeking females to mate with.
Scouting:

Mealybug Biocontrols
Mealybug Destroyer - Cryptolaemus montrouzieri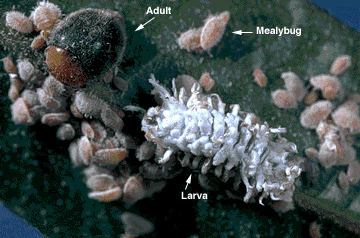 Description: The mealybug destroyer, Cryptolaemus montrouzieri, (or 'crypts') is a small (1/5") black lady beetle with a tan front end and a voracious appetite for mealybugs and some soft scales.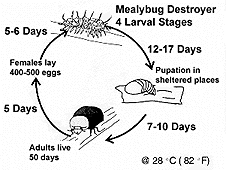 Life Cycle: Adult female beetles lay their eggs among the cottony egg sack of adult female mealybugs. Eggs hatch into larvae in about 5 days at 80F. These larvae, whose waxy covering makes them superficially resembles mealybugs, feed on mealybug eggs and young crawlers. It takes another 24 days for these beetles to go through three larval stages and a pupal stage before they become adults. After four days, adult beetles begin to lay up to 400 yellow eggs during their two month life span.
When releasing these beetles in the winter be aware that cool temperatures will slow development and reproduction. When the temperature is below 50F these beetles remain alive but do not produce many offspring. Beetles take 29 days to go from egg to adult at 80F and take 47 days at 70F. In the summer beetles thrive at 90F, but fail to reproduce at extremely warm temperatures (104F).
Scouting: It is important to remember that larvae of mealybug destroyers superficially resemble large mealybugs and not to confuse them as such. Some inexperienced scouts have actually gone around killing Crypt larva thinking that they were large, ravenous mutant mealybugs...
Citrus Mealybug Parasitoid - Leptomastix dactylopii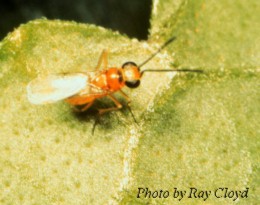 Description: Leptomastix dactylopii is a yellowish-brown, approximately 3.0 mm long, parasitic wasp that moves around by short hopping flights. Females are generally larger than males and have non-hairy, long, straight antennae. Males have hairy, slightly bent antennae. Females live 27 days on average, whereas males live approximately 24 days. The lifecycle consists of an egg stage, 4 larval instars, pupa, and adult. The lifecycle can be completed in 18 to 25 days depending on temperature (18 days at 81F and 25 days at 75F). Adult females can live up to 35 days.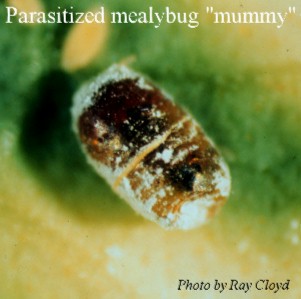 Life Cycle: Adult female L. dactylopii are attracted to the odor of infested host-plants and of unparasitized mealybugs. They can "smell" which mealybugs have already been parasitized and avoid laying eggs in them. They prefer to lay eggs in third instar nymphs and young adult stages of citrus mealybug. They will occasionally attack second instars, but not egg-laying adults. Females can lay 60 to 100 eggs within a 10 to 14 day period.
This species is a solitary endoparasitoid, meaning only a single wasp larva develops inside each mealybug. The eggs hatch in 1 1/2-2 days and the wasp larvae develop through four instars, each of which lasts about 2 days. The developing larva eventually turns the mealybug into a legless, brown, barrel-shaped mummy. After a 7-8 day pupal period, the emerging adult chews through the mummy and cuts an opening at one end. After emerging, the adult wasp feeds on honeydew produced by mealybugs, which may act as a supplementary carbohydrate source. However, it does not feed directly on the blood of its host as do many other wasps. The sex ratio is generally 1:1 with male eggs laid into small mealybugs and female eggs laid into larger mealybugs.
Usage: L. dactylopii has excellent searching abilities and can locate low densities of mealybugs. This ability makes it a good biological control agent to release when mealybug populations are low or spotty. Releases of L. dactylopii should be made near mealybug infestations at a rate of 2 per square meter of infested area or 5 per infested plant. Larger conservatory plants will require a higher release rate. Additional releases may be needed, but only one or two releases are generally necessary.
Scouting: